DESCUENTOS PARA GRUPOS EN CHICAGO
PROGRAMAS PARA ESTUDIANTES Y JÓVENES
¡Desata su imaginación! Lleva a tus compañeros, grupo de acampada, club o clase a un mundo totalmente nuevo. Blue Man Group estimula todos los sentidos con sus potentes ritmos, su inspiradora puesta en escena y su comedia sorprendente, basada en la cultura pop. No dejes de preguntar al departamento de Venta para grupos por los programas matinales.
EL HISTÓRICO HOGAR DE BLUE MAN GROUP EN CHICAGO.
El teatro, diseñado para acoger los espectáculos más increíbles, cuenta con 630 butacas, todas ellas con una visibilidad perfecta del escenario. Es el espacio ideal para una experiencia íntima y personal con los Blue Men y la banda.
Notas e información sobre el programa
Experiencia y espectáculo completamente nuevo "Backstage on the Stage" para los siguientes matinés de estudiantes selectos:
Vie. 24 de marzo 10 a.m.
Vie. 7 abril 10 a.m.
Mié. 24 de mayo 11 a.m.
Vea el calendario completo de espectáculos para las actuaciones matinales regulares de Blue Man Group disponibles durante la primavera. Fechas adicionales de espectáculos BACKSTAGE ON THE STAGE disponibles con una reserva mínima de 200 invitados Sujeto a disponibilidad.
Que Esperar:
Programa educativo de 30 minutos que incluye:
Historia de Blue Man Group
Exploración de lo que sucede detrás de escena
Sesión de preguntas y respuestas
Espectáculo del grupo Blue Man de 1 hora
¡LLAME O ENVÍE UN CORREO ELECTRÓNICO A LA OFICINA DE VENTAS DEL GRUPO PARA OBTENER MÁS INFORMACIÓN SOBRE ESTA NUEVA Y EMOCIONANTE EXPERIENCIA DE ESPECTÁCULO!
Experiencias y entradas para grupos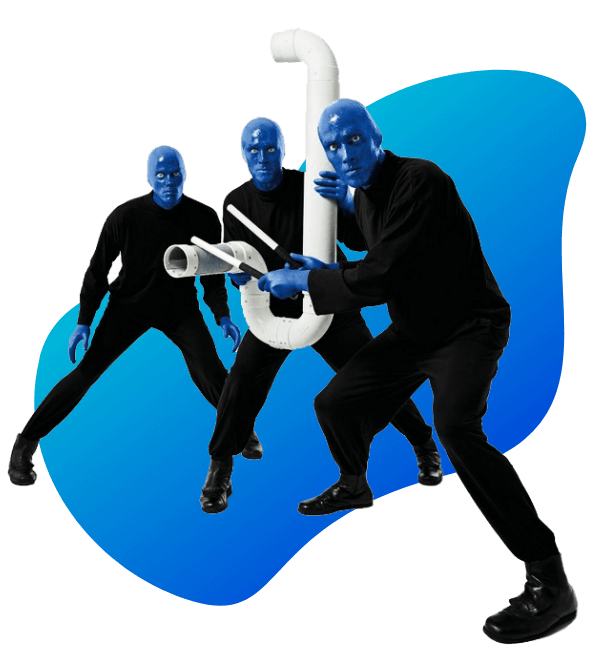 Forma un grupo y prepárate para vivir la experiencia Blue Man.
Deja que Blue Man Group convierta lo especial en espectacular. ¡Lleva tu celebración de trabajo, negocios, tour en grupo, acampada, cumpleaños, Bar o Bat Mitzvah a otro mundo, a una nueva dimensión! Os espera un increíble cóctel de arte, comedia y música como nunca habíais conocido. Sea cual sea la celebración, tenemos la idea, el plan, el programa y el precio perfectos para ti y para tu grupo, desde 49 hasta 103 USD. Y si no tenemos lo que buscas... ¡te lo organizamos!
NO TE LO PUEDES PERDER