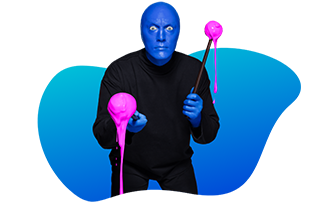 What is this all about!
FIRST, You'll need to answer a security question. What was your mother's favorite taco?
NOW, LET'S GET STARTED. Blue Man Group will rock your world. Blow your mind. And unleash your spirit. As three bald and blue men explore our world, together we'll discover music, laughter and surprises at every turn. By the end of this spectacular journey, you'll be saying "I DON'T EVEN KNOW WHAT JUST HAPPENED BUT I LOOOVED IT."
Crunch the Numbers
25countries we've visited
18KBuckets of paint splashed per year
Show Highlights
Drumbone
Experience the fun with Blue Man Group as they make beats with a half drum and half trombone - the drumbone.
Paint Drums
The Blue Men combine drumming with paint to create a rhythmic explosion of vibrant color.
Big Drum
Take a trip and come see this unique instrument only at Blue Man Group!