Chicago Group Offers
Birthdays Plus
Want to party like a Blue Man? Whether you're celebrating a 5th or 50th, our Birthday Plus packages promise you an unforgettable experience. Get the ultimate ultra-cool gift for your birthday buddy and guests, or to create a truly more memorable adventure with your team. Whatever the occasion, there's no better time, place or way to celebrate!
Blue Man group's historic Chicago home.
Designed to house and highlight the spectacular, the theater has 630 seats, all of which are set to be in perfect view of the stage. It's the ideal venue for an up-close and intimate experience with the Blue Men and the band.
Perks & Features
Lowest available group rates.

Special birthday message on the LED screen before the show.

Special gifts for the guest of honor and goodie bags for each guest.

Great post-show photo ops with the Blue Men.
Group up and get ready to live the Blue Man experience.
Let Blue Man Group turn the special to spectacular. Bring your office, business, school group, scout troop, birthday, Bar or Bat Mitzvah celebration to a whole new world and a different dimension! A wild collision of art, music and crazy comedy awaits. Whatever the event, we've got a group idea, plan, program and price that's perfect for you. And hey!... if not, we can make you one!
Catch some of the action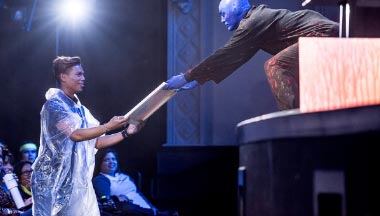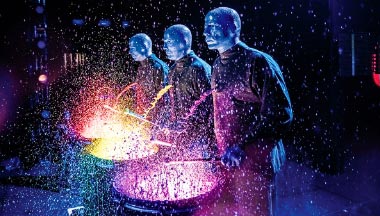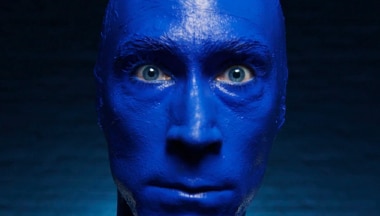 Contact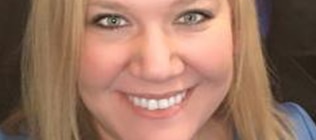 Kristen Doss
Regional Director of Sales
Kristen and Blue Man Group both moved to Chicago within a month of each other in '97. She's worked at the Briar Street Theatre since 2004 and oversees sales for the Chicago, Boston and New York shows.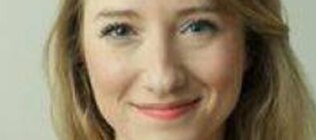 Ashley Stein
Group Sales Associate
Ashley began at Blue Man in 2014 and still loves every second of it. She enjoys theatre and thinks Chicago is the place for exciting work. Contact Ashley with any questions about your groups!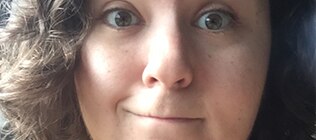 Christine Doherty
Group Sales Associate
Christine joined Blue Man in 2014. When she's not slinging tickets you can find her with her competitive pinball team or on an outdoor patio. Christine is ready to help with all your group needs!